This is a repost, we did not have a very noticeable title last time we posted. I would value this at $285,000.00. It is not for sale, just my opinion. What do you guys think?
Someone put some thought into this GT-E when ordering.
XR7, Wellington Blue with Saddle interior, headrests, 3.50 Trac Loc,... heck here's the Marti report.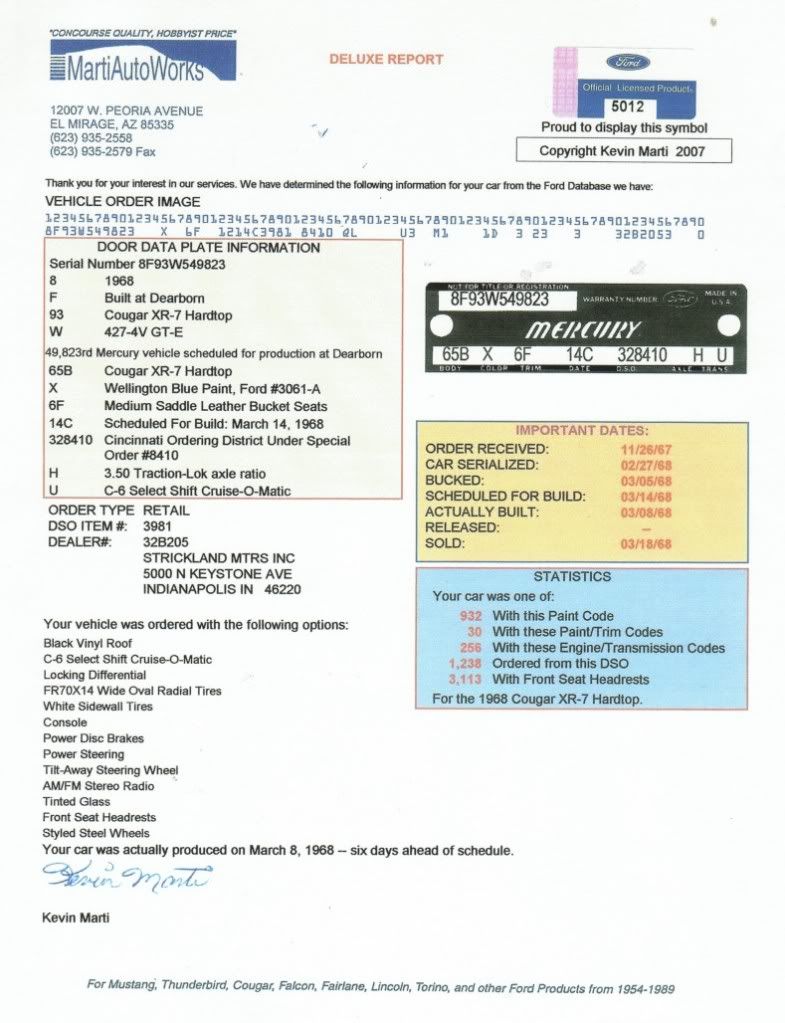 Two owner car with 30k miles. Check out that interior!
Original paint, you can see the detail of the pin striping. The current owner shared with us some of the notes from the original owner (a life long friend), dating back to 1968.
As Avery writes in a letter to Ellsworth; The Machine! Sophisticated piece of equipment, wide oval radials = B.F. Goodrich 990's (excellent). 6 grand @ 135mph. I expect 6600 in 3rd later.
My good friend has a fast GTO - '66 - 3 deuce 360 Hp, 389 w/ 3.55 gears (on 2 carb).
He drove it (GT-E) when I had abt 300 miles on the speedo.
He will only run me rolling from 30mph to 110mph. He was sure he had no chance even at that. It catches rubber from 2nd to 3rd at 90mph (with an auto!)
The ride is only slightly ruff, (abt same as stock Chrysler product), but it is rock stable at 100mph with excellent stability. Low gear is something else.
Ellsworth is a customer of ours. He inherited this car from a lifelong friend who was a very meticulous Electrical Engineer. It has spent all but a very short time of its life in TX, always garage kept, 100% original paint. He has all of the original smog in a box just as it was removed from the car when it was a baby. This is in my opinion, the best unrestored GTE in existence. Just in case you were wondering, it is not for sale. I love the color combo, look at the condition of the interior! Notice also the dealer added rear window defog.