Discussion Starter
•
#1
•
I think it is time for a really good story showing how everything that can go wrong goes wrong for me. It also shows how cheap and small some eBay sellers really can get.
This spring I have been searching eBay and the Internet for the correct parts for the smog system for my 68 XR7-G. One of the parts I found on ebay was a used smog cannister or diverter with a date code that was near perfect for my car.
The seller described it as a good unit in functional condition, which was essential for me as I wanted a working smog system.
Here is the copy of the eBay listing 260760932560: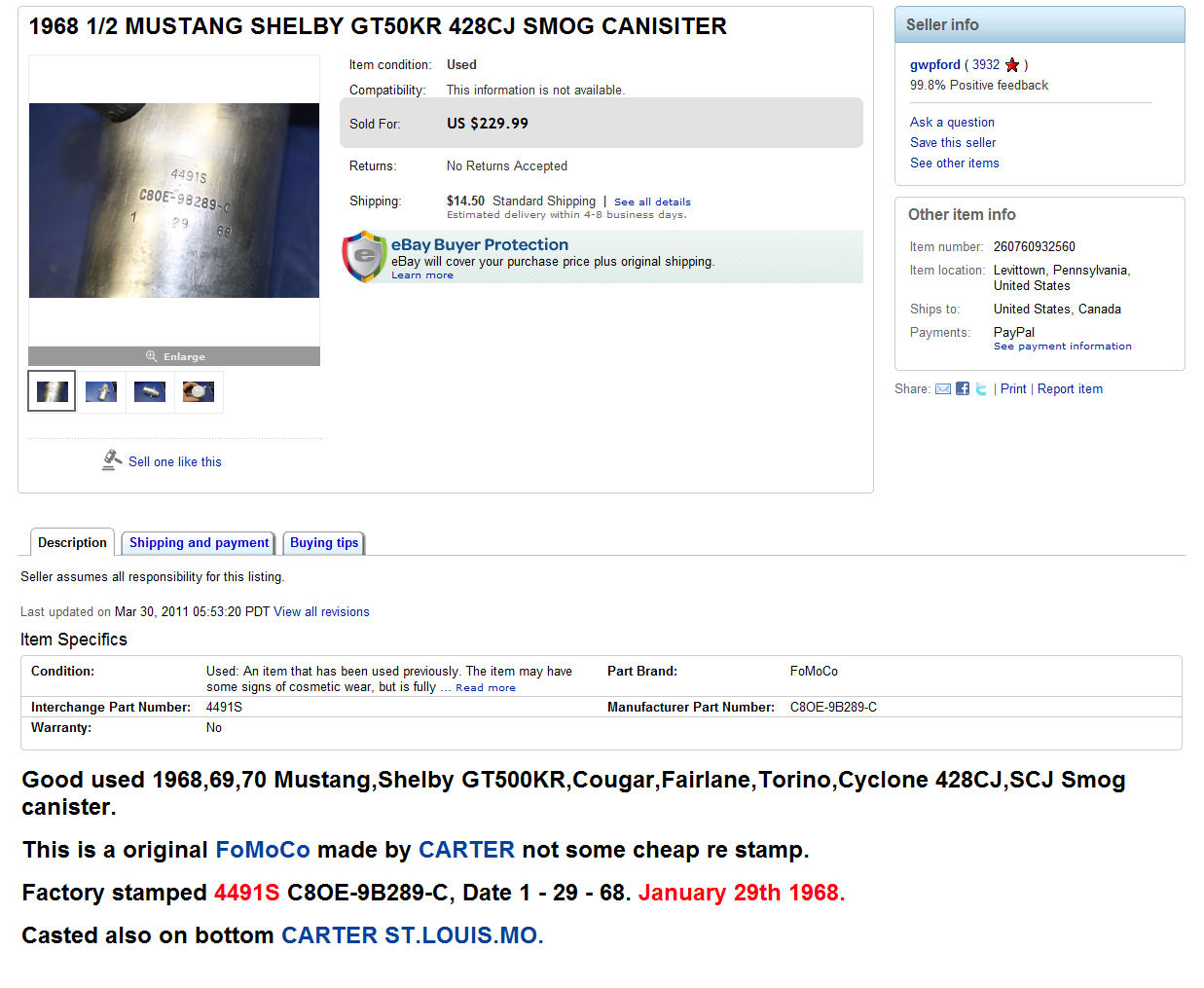 OK, so I bought it and got it some time later in the mail. After a short inspection I found that the seller wasn't telling the truth, the unit was not totally defective and he had also used one picture from another diverter in the listing to hide that it actually had a small dent on the top. As I result I contacted the seller and told him about the condition and that I would like him to take it back for a refund. The seller told me that he did not accept any returns and would not give me a refund. After that he stopped communicating. Then I had nothing else to do than to send a complaint to eBay, which after a while escalated to a claim under the Paypal buyer protection system. After some "investigation" from paypal they told me I would get a full refund if I shipped the item back and provided the tracking number.
So I shipped it back, which cost me another $60 and gave Paypal the tracking number CD592592813NO, which can be tracked at USPS.com . I assumed I would get my money back pretty soon after that, but nothing happened. After 3 weeks I sent and e-mail to Paypal asking what was going on and I was then told that they would not pay me back my money before I gave them a valid tracking number. I gave them the number again and waited, but nothing happened. I asked again and again, but all I got was some automatic e-mail telling me they were still investigating the case. Finally in the beginning of July I got an e-mail where they told me they would not give me a refund since I had not given a proof of delivery of the package. I then tried to find out what happened, but the tracking information only told me that the package was at the unit in Levittown, PA, and that it had been there since June 4. I sent several e-mails to USPS and the Norwegian post asking if they could please find out what happened with the package, but no one could tell.
OK, so now I had no diverter and I had spent more than $300 on this.
Then last week I bought another small part on ebay from a seller with the user name 3rdshiftman. When I paid for the item I discovered that the person behind the username was the very same person as the for the user name gwpford. Then I looked at his other items for sale, and guess what I found? The very same diverter that I had returned to him earlier and that he told Paypal he never received. He even had it listed being in good condition this time as well, well knowing that it is not functional. What a jerk. :whore:
Obviously USPS screwed up and delivered the package without getting the delivery confirmation as they should.
Here is a copy of the new listing, eBay item 190557324733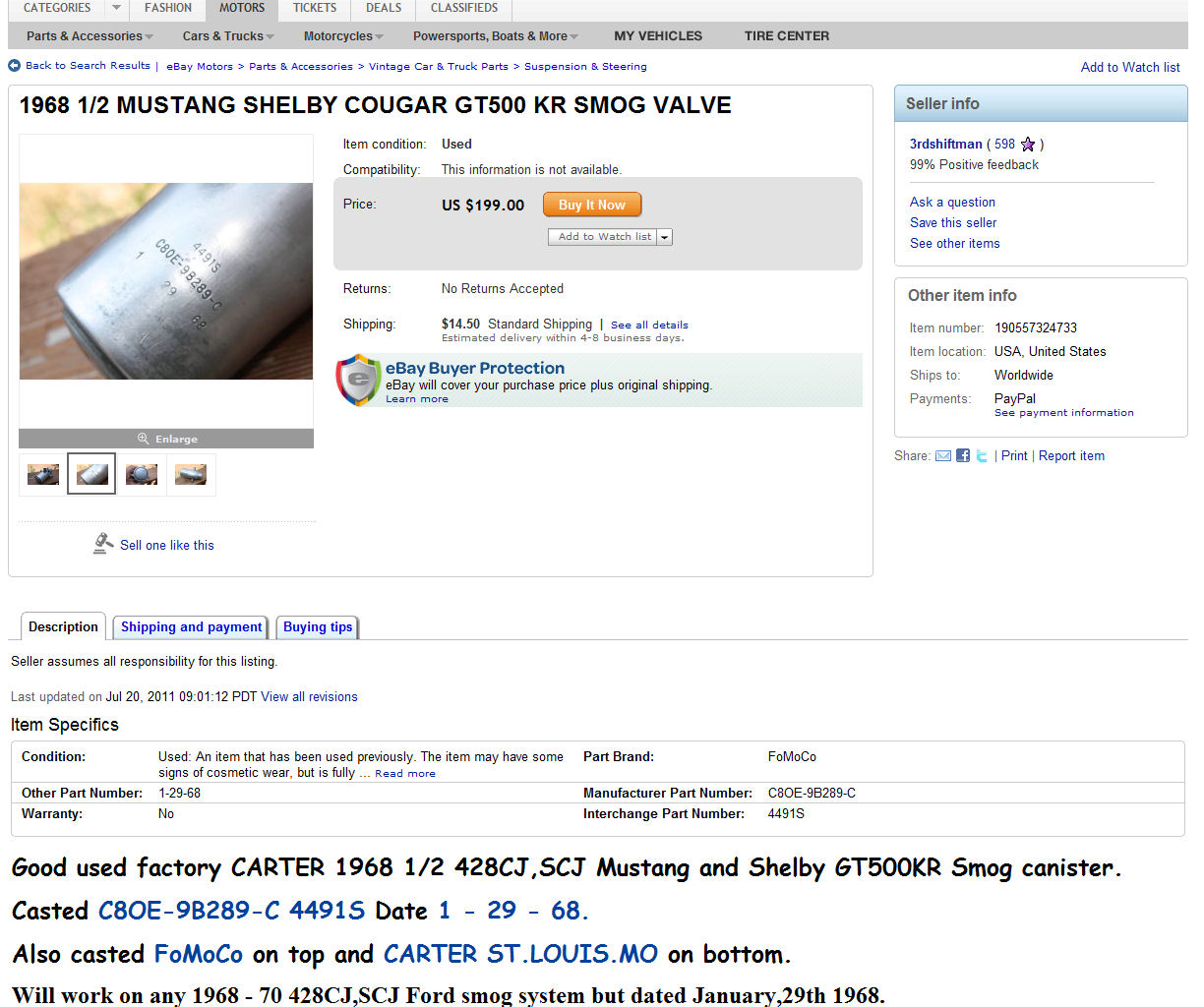 I guess you all would agree with me that this is the same item. So what do I do now?
Well, I pushed the buy it now button on the new listing and it will be very interesting to see what he says when he discover that the buyer is the same person that bought it from him the first time
Maybe I ask too much from people, but honestly, how many of you would have done the same as this guy? Not many I hope.