When building your Cougar, one of the most important aspects in the way it looks is the ride height. The following pictures show different Cougar stances and explain what components are required to get that stance. Wheel & Tire size also comes into play in getting "the look", so please list the tire & wheel size!
For consistency, regardless of tire size, ride height is defined as the vertical distance from the center of the wheel to the fender opening lip.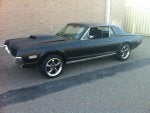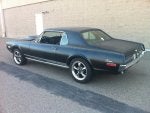 ..........Ride height ..........Car: 1968 Cougar Stroked 351W

Front : 16-1/2" Stock coils
Rear: 13-1/2"
Stock Leaf springs
Wheels: Bullet replica 17x8 & 17x9 with 4 1/2 " backspacing
Tires: 235/45 front 245/50 rear