Discussion Starter
·
#1
·
Hey everyone, I am having a strange issue after I finished repainting my rear light housings.
I spent about 4 weeks repainting my tail light housings. I got them back on the car and now I am having intermittent turn signal issues.
The turn signals will work for a little while (like 10ish seconds) and then the dash indicators go out, and the sequentials don't run or activate at all. When they are running only the outer two lights activate right now. If I let it sit for several minutes it will work again for a moment and then go out.
Since I have spent a good amount of time with the wiring diagrams and the troubleshooting guides I am thinking it is tripping the circuit breaker (CB2). But why?
Is this a grounding issue and I just need to file some of the paint away from the tail light connector area in the housing? Or do I have a grounding issue somewhere else?
Brake lights work fine all the time (I initially had some bulbs that were dim when activating brake lights)
Running lights work fine all the time
So, I know the bulbs work in low and high power modes.
I have already replaced the turn signal switch in the column with the full part from WCCC and replaced the in-line fuse under the dash. Before repainting the housings everything worked perfectly.
Thoughts? Ideas?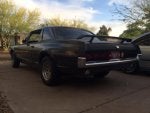 Thanks,
Daniel