In regards to this thread:
http://www.mercurycougar.net/forums/showthread.php?52208-Weak-Horn
I'm not much of an electrician BUT, using the instructions included in that thread I have come across a problem. When I hook everything up I have NO horn. I even pulled the cover off the horn electronics (I have a Grant steering wheel) which should have made the horn come on constant but nothing. I hook everything back up the way it was and I still have a horn but weak.
So, I followed the directions EXACTLY and the above has happened. What could be causing this? I have a 30a relay with a 30a inline fuse. There are two items I'm not too sure about, the ground and the inline fuse.
For a ground I'm using the negative terminal on the battery itself. I have the inline fuse hooked up to the positive terminal of the battery. Everything else is connected to the right relay numbers.
One question I have is, should I be grounding it to the battery or should I be using the horn ground?
I should mention I have after market horns due to the OEM's not working correctly. The way they are hooked up is, from passenger side to drivers side - each horn has two leads on them:
lead 1 = ground lead 2 = oem wire lead 3 and lead 4 = oem wires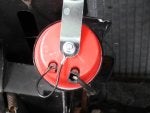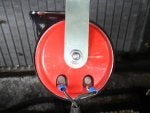 I used the left pic horn for the connections. So what am I doing wrong?
Thanks, Paul