Discussion Starter
•
#1
•
I have a few parts from my 69 XR7 that I don't need. I'm not looking to make a ton of money on them, but I hate just throwing them away or letting them collect dust, so if you can use any of these, make me an offer.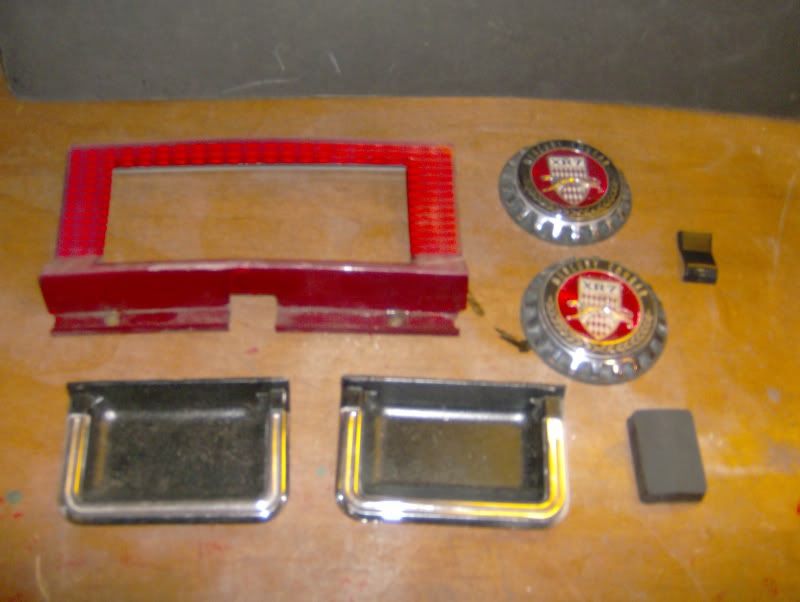 2 - XR7 Emblems in very good shape. Sell on ebay for $35, I'll take $50 for both
1 - Original Ebrake pedal pad, tread was bad so I sanded it smooth. Offer
1 - Rim blow spacer cover. Offer
2 - Door handle inserts. Offer
1 - Gas filler door red lens. These cost a fortune if in good shape, this is not. Faded and broke but fixable. Offer
1 - Set White vinyl top trim. 3 pieces in fair shape, 1 broken, may not be fixable. Offer
1 - Pair visor rods, complete set, some pitting. Offer
4 - White window crank knobs. Rough but usable. Offer
1 - Pair cardboard trunk side fillers. Offer
2 - Sets white bucket seat hinge/arm covers. Rough. Offer
1 - "Cougar XR7" right side dash emblem. Broken but usable. Offer
1 - disc brake pad for automatic. Offer
1 - Map light lens. Offer
1 - Hi-beam switch grommet. New repro. Offer
2 - Coutesy light switches. Offer
NOT SHOWN BUT I'LL SEND PICS TO ANYONE INTERESTED:
1 - Complete set of green seat and shoulder belts. All in fair shape but all are missing the emblems on the release buttons. Offer
1 - Set of 4 green floor mats. Front mats have silver cougar emblem. Dirty but usable.
Like I said, I'll take just about any offer for all of these except the XR7 emblems - those are firm at $50 for both. You pay any shipping. Thanks for looking.
Jeff