Just pulled this Midland banded brake booster out of a early 68 XR-7 and next to it, what looks like a 70s vintage Bendix master cylinder with the
stop screw
.
The 68 XR-7 had just under a 100,000 mi. She sat in a back yard up in New York State for 17 years and in a garage in Florida for the last 21 years.
It's going to be fun rebuilding this one. It still has the Oetiker hose clamp on it so I'm hoping it has never been rebuilt.
I plan on documenting this one and posting thru the refinishing and complete rebuild.
The master cylinder next to the Bendix appears to be a Delco-Moraine with the inside
stop screw.
I pulled that one out of a 67 Cougar.
The
Ram Man
.
http://www.theramman.com/
will know for sure.
You can read about the stop screw here
http://www.deadnutson.com/catalog/item/4065497/4973334.htm
Has anyone here ever tried to rebuild a Midland ? They're really not that difficult. The last one I did had about a half cup of fine powdered rust inside.
The Master cylinders will be more of a challenge.
Here's a better pic of the stop screws.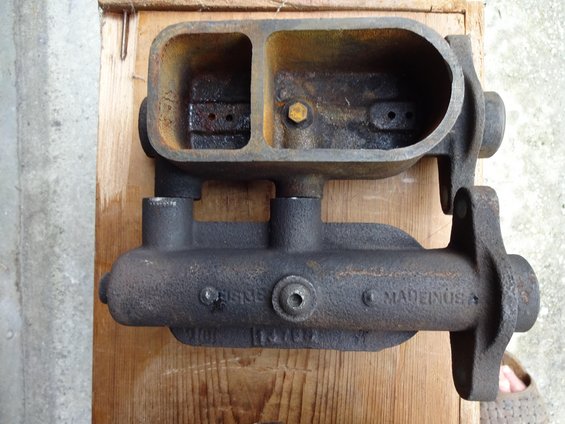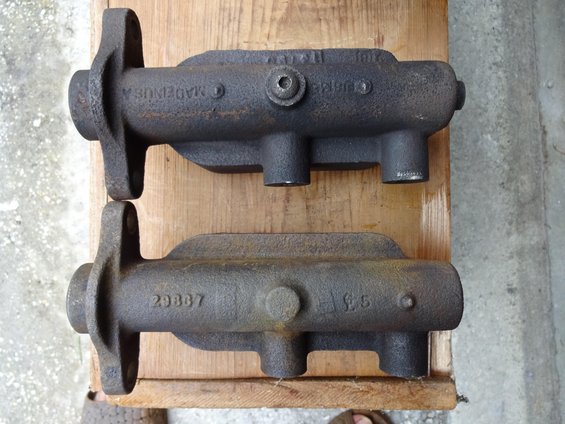 On the Bendix MC with the outside stop screw, you can't rebuild them without removing the stop screw first! These are usually the most difficult because they more than likely rusted in and have to be drilled out.
There is a way to get them out without damage and I'll cover that procedure when the time comes. If you have one of these Master cylinders DON"T turn them in as a CORE!
They are worth $$$. This one happens to have the course thread screw.