Discussion Starter
•
#1
•
I have an edelbrock carb and intake manifold as well as a Pertronix Ignitor II replacing the points in my distributor. Do I need to have all the vacuum hoses attached to this port: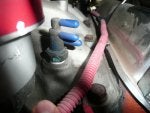 As you can tell from the pics, I currently don't have any of them attached, but was wondering if I should reconnect them. Is this necessary given my current application?
I'm also looking at replacing the distributor and getting an MSD distributor that doesn't require the ignition box. Would I need this port/vacuum lines if I switch out distributors? Thoughts/recommendations?