A freakin' Aston Martin DB5! Yes, James Bond's fabulous ride from Goldfinger (and several others). Now, it isn't in great shape – it has a few dents and scrapes, the bumpers are whacked, and the sunroof is missing. But I think with some elbow grease I can have it shining like a diamond! The great thing though is that it runs and drives! All I had to do was put new batteries in it and it fired right up!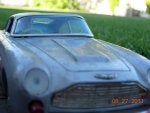 <FONT face="Times New Roman">
<?xml:namespace prefix = o ns = "urn:schemas-microsoft-com
<o
></o
>
<o
></o
>
<o
></o
>
<o
></o
>
<o
></o
>
<o
></o
>
<o
></o
>
<o
></o
>
So I was helping my mother out a few weekends ago as she finally garage / estate saled my grandmothers estate. Mommom (grandma) collected dolls and other odd toys, mostly from her days of working at a thrift shop outside of Philadelphia. Anyhow, Mom asks me to go inside and grab a bunch of toys and bring them out. And what do I see in the pile?
Needless to say, I pulled that one out and told Mom "No way you are selling this, it's mine now." and I also made her bump up the price on several other old tin toys.
Yeah, its not a real car, but it is still cool. And probably the closest I will ever come to a smokin' barn find :smoke: