I am the designer, builder and manufacturer of ELFI/SSIVR solutions for vintage Ford vehicles having a Low Fuel lamp.
The Electronic Low Fuel Indicator (ELFI) is a solution to restore proper (and improved!) functioning of your Low Fuel light. It consists of the ELFI, a Solid State Instrument Voltage Regulator (SSIVR) - which replaces the stock Constant Voltage Regulator (CVR) which mounts on the back of your instrument cluster and supplies a regulated voltage to your gauge, and a two-wire cable which brings SSIVR voltage and fuel gauge signal to the ELFI from the fuel gauge in the cluster.
All that is required to use the ELFI solution is a working fuel gauge (which implies the gauge part of the fuel sender must work as well). The sender can be a standard fuel sender, new or used as long as it works or a low fuel sender with a bad low fuel sensor (the gauge rheostat must work). Any "working" sender, LF equipped or not.
The ELFI comes in two variations, the 67/68 version (SSIVR has spade terminals) or the 69-73 version (SSIVR has 9V battery terminals). For those who are good with electrical/wiring, the ELFI solution could even be added to vehicles without the LF light (add your own light and wire in the ELFI).
What is improved about the ELFI solutions are that "hysteresis" has been incorporated into the circuit. Hysteresis in this case means that when the fuel level gets down to the level which illuminates the LF lamp, the circuit will not extinguish the lamp until the fuel level is a couple of gallons above the level at which the light was turned on.
Here are a couple of slides I made up describing the ELFI solutions.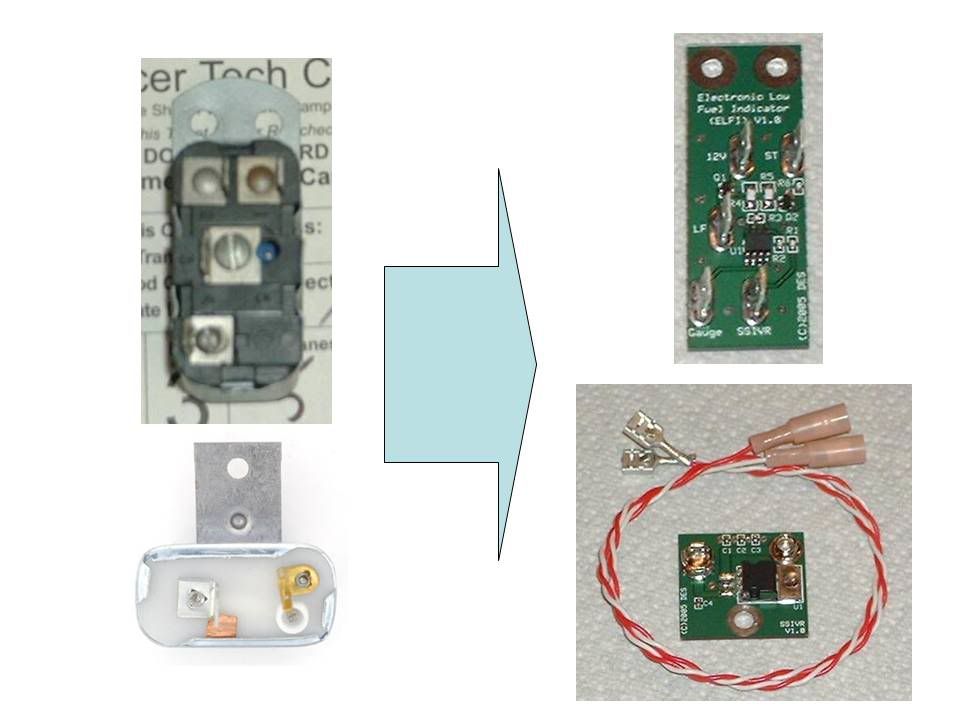 The kits are $120 shipped to the lower 48 from NJ. Paypal slightly more. PM me to order or for questions.
Thanks,
Bob