Discussion Starter
•
#1
•
I thought I would take a moment to start a thread about my build (a recently purchased 68 Cougar). Just received my Marti Report this weekend and this was an original no-frills purchase. The only options listed are: C-4 Merc-O-Matic, E70X14 Wide Oval Tires, White Sidewall Tires, Power Steering, AM Radio. With this being as basic as a Cougar could have come, I figure it is a great opportunity to make a Custom 68 Cat!
The PO was kind enough to have it sandblasted \ sanded about 90%.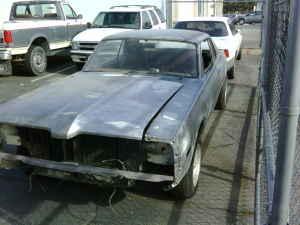 The 302 that is in it appears to be strong running (not sure on originality), and the tranny is believed to have been rebuilt in 2002. So that will remain the power plant for this project.
The interior was in pretty rough shape (missing buckets, cracked dash, holes in lower dash), but the trunk was full of goodies:
The big items in the plan are:
Rebuild suspension, steering, brakes
Weld floorpans, front and rear pieces of both quarters, lower front of drivers door
Custom marker lights, dash, package tray, stereo, electric eyelids
Color scheme: Sterling Grey and Black (photoshopped below over someone's beautiful blue 68)
​
I am an amateur and plan on relying heavily on this forum and my brother (who has restored a couple cars in the past). Thanks to Jim P already for guidance on a plan of attack for this project!
Hoping this forum thread will also help keep me motivated. Goal is Hot August Nights, 2011. July is going to be busy month (job-wise), so I am hoping I can squeeze some patch panel work in.
Hope to see you back soon :wave: