Discussion Starter
•
#1
•
The back story on this cougar. in 1972 my wife's grandmother on her mothers side purchased this car. Before she passed away my father in law asked if he could buy the car from her, as he had always loved it. Well she decided to give it to him and he has had the car since the mid 90's i believe. My wife always hated this car as she was forced to drive to to school as a kid, but now she is very excited to keep it in the family. My Father in law asked both of his sons and they didnt want to take on this project. The pictures of the car he sent to them all made it look horrible, well I am a risk taker so when he asked us we both agreed to at least take a try at making the car right.
My first impressions of the car when i got it, it was a lot better than I expected, the body is really straight just a few issues on the doors and one quarter panel. I knew the roof would need to be replaced. Here is a quick video of the car when i first got it. That was back in November 2012.
a lot of work has been done on the car since then, it has been at a restoration shop for ~ a month now. here are some updated pictures of what is going on.
Floor patched
Quarter patched and the side marker light to be shaved off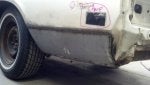 Motor pulled out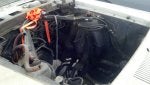 and my favorite picture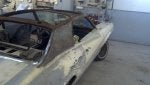 the roof cut off! A new roof has been purchased and shipped to the restoration shop.
More progress pictures will be posted when i take them.