I figured that I'd go ahead and start a thread on building up my freshly-aquired 68 Cougar XR-7 into a resto-modded driver- just for kicks and entertainment. Please feel free to add your input, offer suggestions, or just tell me I'm doing it all wrong!. It's going to be my daily driver, and will most certainly be driven hard on occasion, so I'm not going to do anything overkill, like polish my exhaust or anything. There is a car show at Mustangs Unlimited on July 13th. Let's see what happens by then. I initially wanted to have it done by then, but I've instead jumped in face first and taken it all apart instead of driving it while I did simple upgrades.

I'm a painter at a body shop, so if nothing else it WILL be shiny.

The story behind the car is kinda fun, so I'll start there-

I started looking at cars to build over the winter. Whatever I got was going to be my "last chance" of sorts to dump a bunch of money into a car before my wife and I have kids next year. I found this car in 2/08- the guy wanted $3600, I offered $3200, he rejected it, so I walked away and bought a 66 Chevy C10. I really wanted the Cougar, but I've had a few old trucks in the past and figured it would be a simple and satisfying build. As soon as I started getting into it, I felt that God (yes, God... it's a relationship thing...) told me to go ahead and do whatever It was I had planned for it, but to get it done in 3 months. Okay.
So I busted my butt on it, spent most of what I had on it, and had it painted and done, with the exception of a seat recover and disc brakes within 2 and a half months. The afternoon that I finished buffing it and drive it home from the body shop (work), some lady in a Tundra made a blind left turn through backed up mall traffic right in front of me, so I hit her in her right bedside. Her fault.
Since I had everything done and painted, I got $8000 more than I spent on it from her insurance company. Had I not busted on it, it would have most likely been in primer and would have been worth a couple hundred bucks
to the insurance. yes.

But this isn't about OLD TRUCKS, its about Cougars!


So, I needed a car. I found out that the guy with the XR-7 was still selling it, but had now reduced his price down to $2900. I offered him $2400, and he took it. He was apparently moving soon. On 5/16 I drove it straight from his house to a mustang shop called Dugan Racing to put a 5 speed and 3:70 rearend in it. It had something retarded like a 4:88. I could only go 50mph, and was getting passed by tractor trailers with full loads of concrete blocks on the highway.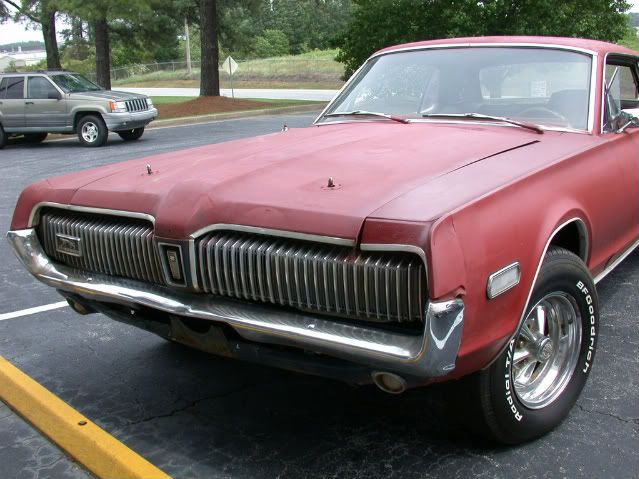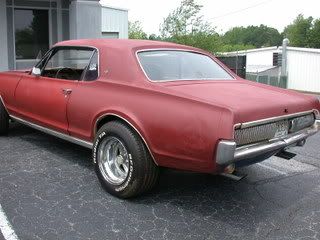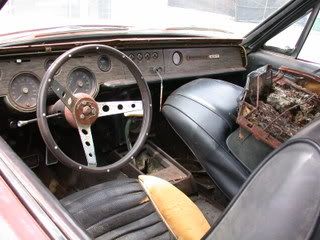 PLANS for the Cougar are to have a modern, tight suspension, power steering, power disc brakes, a 5 speed, drop it as low as I can get it without doing anything stupid, and as big as a set of wheels I can fit without looking stupid. I want a classy yet modern oxblood and black colored interior with stainless bits, red led lighting, modern gauges, ac, power windows, dark tint, power heated seats,black chrome and black flake two tone exterior with a stripe of either candy red or realistic flames. I change my mind on it every week. Somewhere, though, I'm going to have the Thundercats logo. It's much more aggressive than the Cougar logo.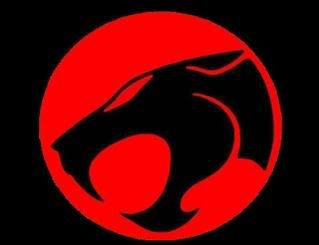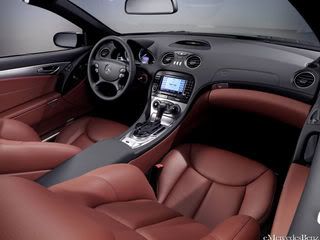 Well, the PO bought the car as a shell, spent "$6k" installing a 351 windsor and toploader, started to sand it down to bare metal, and then left it outside for 6 months with the windows down. Then he thought it would be best to just spray paint the whole thing with red Walmart primer. Classy.





Now that I have it home, I can get to it!