I couldn't find any rules thread about how to post in the for sale section, but I'll be as descriptive as possible:
I've got a new clutch set bought from autozone (
this one
) that has never been used. I bought it because I was told I would need a new clutch. Turns out that wasn't the issue. So now I just have a clutch set laying around. Originally bought in North Carolina. Will ship from Boone, NC to anywhere in the continental US. Here is a picture: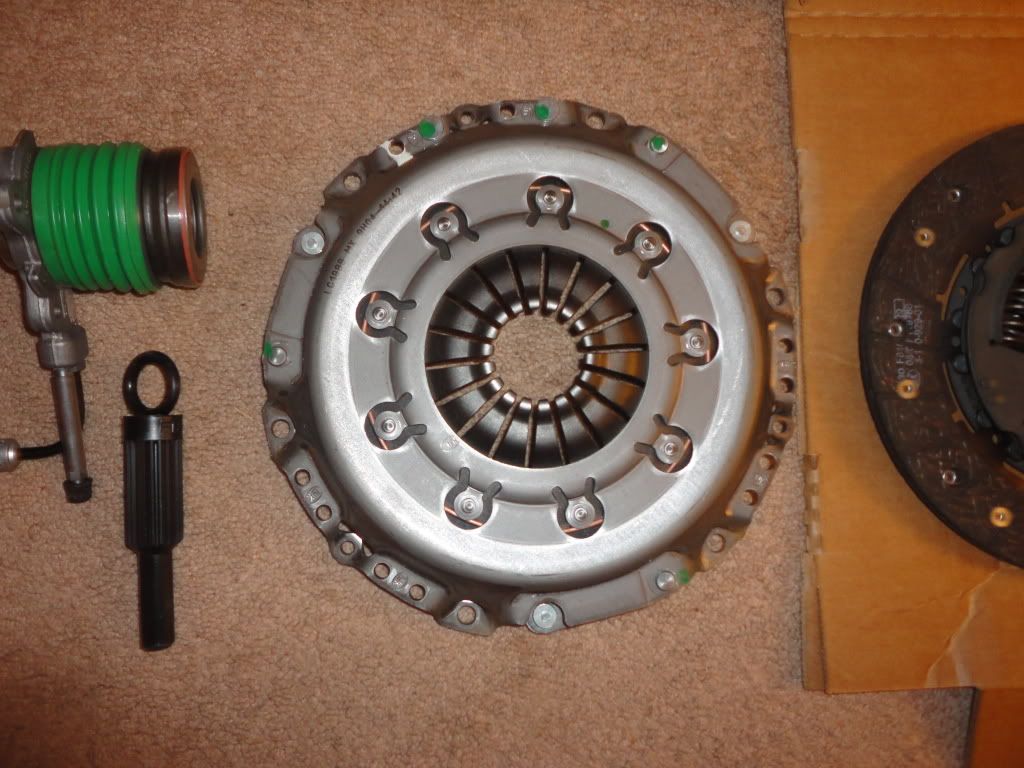 It will fit on Cougars made between 2000 and 2002. I paid $280 plus shipping. Looking to get around $225 shipped OBO. If you are interested, please send me a PM.
Cars it is compatible with:
2002 Mercury Cougar V6 Coupe 2-Door 2.5L 2450CC 155Cu. In. V6 GAS DOHC
2001 Mercury Cougar S Coupe 2-Door 2.5L 2450CC 155Cu. In. V6 GAS DOHC
2001 Mercury Cougar V6 Coupe 2-Door 2.5L 2450CC 155Cu. In. V6 GAS DOHC
2000 Ford Contour SVT Sedan 4-Door 2.5L 2450CC 155Cu. In. V6 GAS DOHC
2000 Mercury Cougar V6 Coupe 2-Door 2.5L 2450CC 155Cu. In. V6 GAS DOHC
2000 Mercury Mystique LS Sedan 4-Door 2.5L 2450CC 155Cu. In. V6 GAS DOHC
1999 Ford Contour SVT Sedan 4-Door 2.5L 2450CC 155Cu. In. V6 GAS DOHC
1999 Mercury Cougar V6 Coupe 2-Door 2.5L 2450CC 155Cu. In. V6 GAS DOHC
1999 Mercury Mystique LS Sedan 4-Door 2.5L 2450CC 155Cu. In. V6 GAS DOHC
1998 Ford Contour GL Sedan 4-Door 2.5L 2450CC 155Cu. In. V6 GAS DOHC
1998 Ford Contour LX Sedan 4-Door 2.5L 2450CC 155Cu. In. V6 GAS DOHC
1998 Ford Contour SE Sedan 4-Door 2.5L 2450CC 155Cu. In. V6 GAS DOHC
1998 Ford Contour SVT Sedan 4-Door 2.5L 2450CC 155Cu. In. V6 GAS DOHC
1998 Mercury Mystique LS Sedan 4-Door 2.5L 2450CC 155Cu. In. V6 GAS DOHC
1997 Ford Contour GL Sedan 4-Door 2.5L 2450CC 155Cu. In. V6 GAS DOHC
1997 Ford Contour LX Sedan 4-Door 2.5L 2450CC 155Cu. In. V6 GAS DOHC
1997 Ford Contour SE Sedan 4-Door 2.5L 2450CC 155Cu. In. V6 GAS DOHC
1997 Ford Contour Sport Sedan 4-Door 2.5L 2450CC 155Cu. In. V6 GAS DOHC